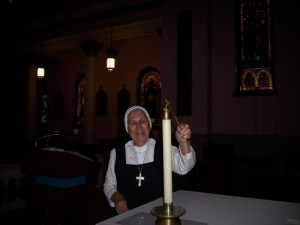 A Discernment Program is offered at our Monastery for those wishing to discern their vocation.   As discernment is a mutual process, both your needs and desires of the community will be prayerfully considered in the unfolding light of the Will of God. We suggest you be under the guidance of a Spiritual Director during this time, who will help you listen to the voice of God in your heart. You may ask to apply to the Discernment Program after you have made at least two retreats in our Monastery for a total of at least six days.
The novitiate is a period of initiation and formation into our monastic contemplative life according to the Constitutions of our Order. Our formation program nourishes a candidate's ability to "Live Jesus" by integrating her prayer life, spirituality, community living and generous response to service revealed in the Will of God.
This period of discernment is made in the light of the Holy Spirit and within our charism of  "profound humility toward God and great gentleness toward our neighbor."
After entering our community the candidate begins her postulancy and then continues her time of formation as a novice and a temporary professed Sister until her final profession of Solemn Vows. This period takes approximately six years. It is a time of spiritual growth as the Sister in formation absorbs the teachings of our Founders, the living of our Constitutions, the vows and community life.
Ongoing formation is part of each Sister's continued growth, and the Superior arranges for conferences, retreats, workshops and video presentations to enable this spiritual development.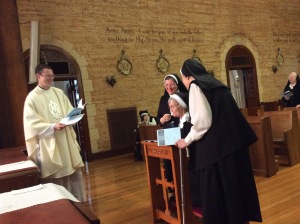 Is God whispering to your heart?  Would you like to make a retreat? 
We welcome you!  Email or call:
Visitation Monastery
8902 Ridge Boulevard
Brooklyn, New York 11209
(718) 745-5151