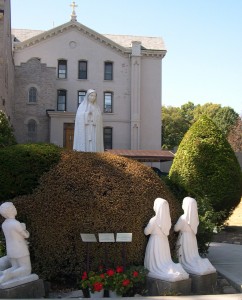 Saturday September 24, 2016 is the 161st Anniversary of the Founding of the Visitation Monastery in Brooklyn- and Brooklyn's FIRST CONTEMPLATIVE, CLOISTERED community.
Our current location in Bay Ridge is the fourth. The Sisters moved here in 1903, but prior to that resided on Clinton Avenue and two  other sites before that address, Lawrence St and Johnson St.
We remind all parishes that we are here and always welcome retreatants to share the experience of monastic life.
Pray for us as we do for you, every day.