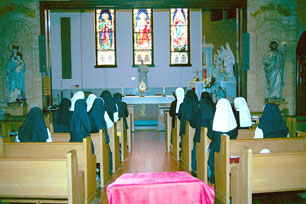 On Friday, November 21st, the glorious Feast of the Presentation of Our Lady, Visitandines around the world will renew their holy vows of poverty, chastity and obedience. In Brooklyn, we will renew our vows during the 7:15AM Mass.
As the Oblate Father Alexander Pocetto OSFS put it, "By renewing our vows, we become more aware of how essential it is, with the help of Jesus, to cleanse the temples or our bodies so as to give fitting worship and praise to God. It is a strong reminder that commitment and fidelity are values that are meant to last.."
"Francis de Sales insists that perfection consists in struggling against our imperfections. As long as we are willing to continue fighting, then we will be victorious; we will be winners. In his sermon on the Presentation of our Lady, he gives a word of encouragement to those early Visitandines and to us on this occasion. "For this custom of renewing our vows," he says, "can repair any faults we may have committed when we first made them" (Sermons on Our Lady, p. 43).
Read Father Pocetto's article " T0 Make Beautiful Music Together" and grow in your appreciation of this blessed tradition.
http://web1.desales.edu/assets/salesian/PDF/ATP-VowObedience.pdf