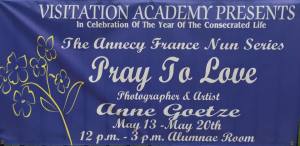 As a way of celebrating the Year of Consecrated Life, we are so happy to announce that "Pray to Love" The Annecy France Nun Series by artist Anne Goetze will be coming to Bay Ridge's Visitation Academy and Monastery, May 13-20th, 2015, from 12 Noon-3PM.
Artist Ms. Anne Goetze has a special interest in the Order as her aunt was a member of the Annecy Visitation Community.
You will have an opportunity to meet the artist and enjoy the spiritual and natural beauty of her paintings.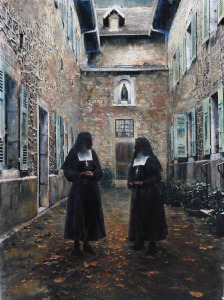 A short documentary on Anne Goetze's Annecy work is available here: https://vimeo.com/119258956
Join the Brooklyn Visitation Sisters and the Visitation Academy Administration and Staff in welcoming Ms. Anne Goetze and her unique artwork to Brooklyn!