Day 1
Four American Visitandines from different US Monasteries attended the conclusion of the Year of Consecrated Life in Rome at the end of January and beginning of February. Mother Susan Marie of the Brooklyn Visitation Monastery was among them, joined by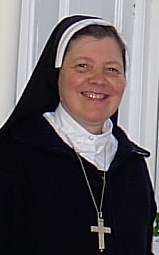 Mother Rosemarie,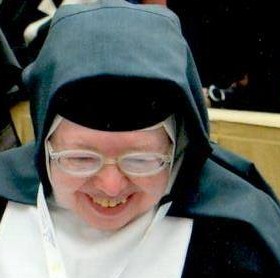 Mother Mary Emmanuel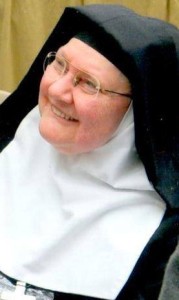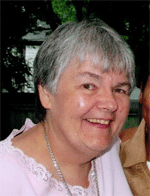 and Sister Suzanne, from Mobile, Rockville and Mineapolis. We met in the Atlanta airport for the transatlantic flight on Tuesday January 26th and were thrilled to meet other Sisters from various congregations also on the same plane, some of whom we knew: Sister Diane from the Cincinnati Poor Clares and two Consecrated Virgins, Barbara and Eileen. Small world!
When we arrived in Rome the next morning, Wednesday the 27th, we Visitandines were quite surprised to see airport signs in both Italian and English, making our hurried steps to the baggage claim that much easier to find.
The Holy See had arranged for all 38 Visitandines from around the world to lodge with the Sisters of Charity on Via della Greca and we Americans were met by a competent taxi driver who took us on the half hour trip to our new convent.
First impressions of Italy were multiple: honking horns, throngs of motorcycles, ancient ruins, everyday folk waiting for a bus, large apartment houses with laundry drying from windowsills, groups of men in animated conversation on the sidewalks, and some poor homeless individuals. Palm trees and pines were scattered here and there on this sunny day.
We were one of the first groups to arrive at the Sisters of Charity Generalate and were greeted so warmly by the Sisters, invited to lunch and given time to explore the surroundings of the 4th floor where our rooms were located. A roof terrace gave us access to a wide view of this section of Rome which included sights of cupolas and domes of the Churches in the area, and an unusual looking tower.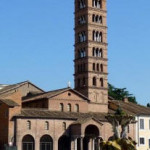 One of the most delightful discoveries was that the Generalate had about 20 postulants staying there all from China.
Tired from the long travel, we made it an early night.
Day 2
Early in the morning we rose to join the Sisters of Charity for Morning prayer- in Italian- fumbling with the pages of the books a little, and then attended Mass with them. Their chant and singing is harmonious and gentle. After breakfast of a roll, yogurt, some fruit and Italian coffee, we had a little free time in the morning, so the first exploration was within the grounds, which offered vine covered trellises, winding upward paths with views of the distant Vatican and a partitioned cave, vigiled with lights before a painting of their Foundress, for prayer.
Mothers Rosemarie and Susan Marie then went beyond the walls for their "Roman adventure", a walking spree that took them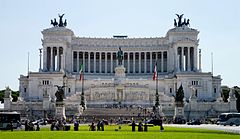 past the National Monument, many ruins, such as the Teatro di Marcello,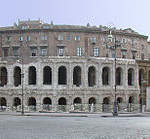 Palazzo Venezia and down the Via della Corso for 2 and a half hours.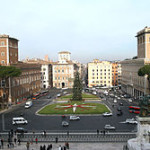 Back with the others in time for lunch in the colonnaded dining room with the local community, we all enjoyed the first course of pasta as well as the main meal. Many other Visitandines now began to arrive and by 3PM there was a bus  ready to take us to the opening prayer service at St. Peter's Basilica.
The first challenge wasgetting to the bus across a wide street with not enough time to beat the light! That accomplished we had a short 2 mile or so ride to  a bus terminal- no door to door service here. Then walking the streets of stone- not easy for Mother Emmanuel's walker- to the phenomenal lines of 4000 religious waiting to be scanned for entrance into St. Peter's Basilica.
We were blessed to pass through the Holy Doors as we made our way into this vast cavern of holiness, trying to identify the statues as we were ushered to our seats. We needed to feast our eyes on what lay above and around us then for little did we realize then that we would never be able to enter St. Peter's after this day.
The opening prayer service was so moving and we flooded our hearts with prayer. You can watch the entire service here: https://www.youtube.com/watch?v=OzzjA25cLjU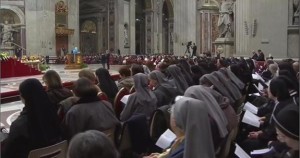 The unity was powerful among us, and Adoration of the Blessed Sacrament so profound.
After this first service we 4 American Visitandines were, thankfully, together and made our way in tremendous crowds to try to find our way back to the bus, several colonnades and blocks away, it seemed. But Mother Emmanuel's walker could not keep pace and we were confused as to which direction to go. We made our way, blessedly with a gentle, kind and distinguished cleric who helped us. Much to our dismay it turned out the bus did not wait for us and we were stranded amid the homeless souls surrounding St Peter's. The kindly cleric took us with him, and slowly we made our way to a taxi stand where we obtained a ride home. The cleric left us. We saw him a few days later. He was a Cardinal  from Ghana!
Day 3
Friday, January 29th, 2016 our attendance at "Consecrated Life in Communion," began in earnest. The early morning became routine: a quick breakfast with 38 Visitandines in a private refectory setting with the Sisters of Charity, off to the bus, or in our case, sometimes a taxi and then to our place of meeting.
Because Mother Emmanuel's walker wasn't the best vehicle for transport for cobblestoned streets and swarming crowds of religious, the Sisters of Charity lent us a wheelchair and Mother Rosemarie became her main companion. One of the other of us would take a leisurely ride in the taxi with them.
When we arrived to enter Paul the 6th Hall at the Vatican, we were again met by the scanners and long lines of 4000 religious. Thus we were separated as those with special needs were taken to different areas.
The Hall was spacious enough for all of us. In our bags we were given tiny red "translator" machines with earphones and these worked fora while, at least, although many of them needed battery changes and that ran out eventually too.
The first talk was by Cardinal A João Braz de Aviz  the prefect of the Congregation for Institutes of Consecrated Life and Societies of Apostolic Life . He spoke about Consecrated life in the unity of charisms.Some of his key points were:
The closing of the Year of Consecrated Life is an historic event. Five continents of religious were meeting for the first time in the "House of Peter"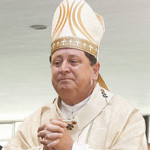 He emphasized: joy, waking up the world, religious as experts in communion, going to the existential outskirts, to listen and be courageous.
Religious are to confess the Holy Trinity and insert ourselves into the life of the Trinity.
To be compassionate and joyous; service is a source of joy.
We are to be prophets and a prophet testifies how Jesus lived on this earth, not solitary but in communion. We are to be a school of communion.
We must adapt to new needs  and not have a self-referential approach.
Unfortunately, this writer's translation device then failed and I was unable to understand the remaining talks, which were in Italian or Spanish.
We lunched at Urbano College, and had evening prayer there as well.