Our Visitandine Monastic Contemplative life of prayer overflows into the hearts of others in various ways.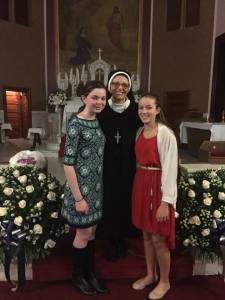 Visitation Academy is our elementary school for girls from Nursery through Grade 8. Our Academy is administered and staffed by a lay faculty steeped in our Salesian Spirituality. Our Principal, Mrs. Arlene Figaro is a 2014 winner of Brooklyn's Women of Distinction award: see page 19:
http://www.brooklynpaper.com/assets/pdf/wod/cng_women-of-distinction_2014.pdf
We have unique opportunities to share our love of God.  Sisters may teach a Religion Class to the children, have Faith-Sharing Meetings with their parents, or simply be a spiritual presence of love and support.  (www.visitationacademy.net)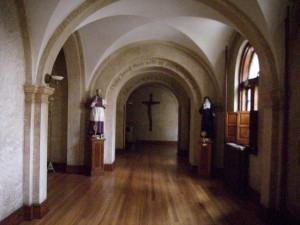 Retreatants are welcomed into our enclosure and share our daily life of prayer, enriching themselves in the presence of God.  Our retreat area can accommodate a maximum of four women for a private retreat of a week, weekend, or day of recollection. http://www.youtube.com/watch?v=bOxKkvoCWVI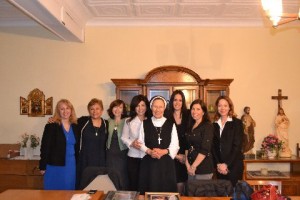 Our Associate Program also welcomes women for monthly talks, prayer, and sharing on Salesian Spirituality.  Guided by one of our Sisters, these Associates are given opportunities to support one another on their spiritual journeys.
Associates identify with the community's charism, value and mission by sharing in the spiritual life, prayers and apostolic works of the religious community.
Our Associates study Salesian Spirituality, Fathers of the Church with regular conferences with our Spiritual leaders, attending Salesian Conferences and retreats.
Their promise includes the statements "Through the studies of Salesian Spirituality, its Charism and Traditions, and bonding with the Sisters, I desire to participate more fully in the life of the Church.
By sharing in the Mission of the Sisters of the Visitation of Brooklyn, and by "Living Jesus" more fully each day in the spirit of St. Francis de Sales and St. Jane de Chantal, I hope to grow in love and service."
We also host the Daughters of St Francis de Sales' monthly meetings and retreats. These consecrated lay women share the spirit of St. Francis de Sales and St. Jane de Chantal in a worldwide and distinct association. (www.sfdsassociation.org)
PRAISE AND WORSHIP SERVICES under the leadership of the Agape Center:
As an outreach, we are privileged to gather on the following Monday's throughout the year with the Visitation Sisters at the Visitation Chapel. PRAISE AND WORSHIP SERVICES include EXPOSITION OF THE BLESSED SACRAMENT, and laying on of hands for individual prayer. We are blessed by the Sisters' wisdom, encouragement and grace.
VISITATION CHAPEL, 91st.St. and  Ridge Blvd. , Bay Ridge , Brooklyn at 7:30 p.m.
Next date: September 11, 2017 at 730PM