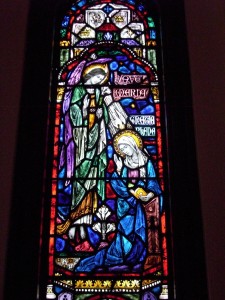 This evening we begin the most reverent and mystical season of Advent.
The Monastery is a silent stronghold of prayerful preparation as Sisters move about, getting the Advent wreaths and candles into their holders, setting out the Advent blessings, changing their Divine Office breviaries to Volume 1, in blue, choosing Sunday's Advent hymns and heartfully anticipating the grace of this holy season before the commemoration of Christ's birth.
Outside the Monastery on the green lawn, the Advent season is advanced, as we have a children's Academy and the Nativity scene is already up in readiness for the school's tree-lighting ceremonies on December 6th.
But within, we will prepare our souls with appropriate Advent spiritual reading, both privately and in the refectory, modifying our consumption with a moderate fast from treats, and praying the exquisite antiphons and psalms of this holy time.
Jesus is coming, once again, in memory as a baby and in the present with His peace-filled blessings for each one of us inhabiting our world, so often in tension.
Jesus, who so wants us to live in Him and for Him and by Him, calls us to remember, proclaim and live Him.
JOIN US FOR OUR SUNDAY MASS NOVEMBER 29TH, AT 8AM THIS SUNDAY.
Also, in gratitude, we thank Maimonides Hospital for their loving, gracious contribution to our tree-lighting ceremony. From Bay Ridge, we are grateful for their leadership in helping us all live as one people, of various faiths, united in true charity.