Most Reverend James Massa presided at the Solemn Profession Liturgy at Brooklyn Visitation Monastery with concelebrating priests and Deacon John.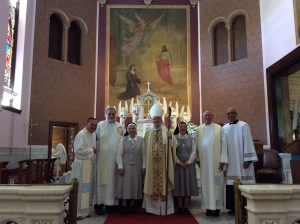 Pictured from left to right are: Msgr Joe Nugent, Rev. Richard Bretone, Sr. Ana Maria, Bishop James Massa, Mother Susan Marie, Rev Gerald Knapp,CssR and Deacon John.
Sister is welcomed by the Visitation community after pronouncing her Vows in this short video.