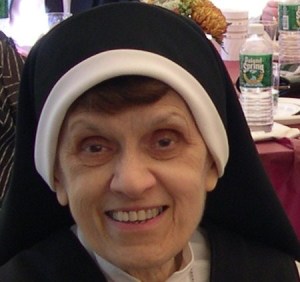 Our dear Sister Mary Antonia VHM went home to God Monday November 28, 2016.
Viewing was Friday Dec 2 in the afternoon and evening. Sister's Funeral Liturgy was held Saturday December 3 at 945AM.
Thank you for your prayers.
Sr. Antonia was the 6th of 10 children born to Julia Marra and John Delucie. She was baptized Maria Donata Delucie but everyone called her Diana. She attended Girls Commercial High School in Brooklyn and studied costume design, winning many awards. Diana first worked as a seamstress and milliner in Manhattan where she became a specialist in creating contemporary fashion hats. She developed a keen eye for style and landed a prized position as a copyist working first for Sally Victor and later for Lilly Dache, both celebrated Madison Avenue designers.
Diana entered the Visitation Monastery July 9, 1955, was professed on March 24, 1957 and was given the name Sr. Mary Antonia. She was educated within the Cloister and taught primary grades in the Visitation Academy 1957-1972. During this time she also functioned as the Procuratrix and Bursar ( 1964-67). The Rule of the Cloister became more flexible after Vatican II which ultimately allowed the interested sisters to study outside the walls of the Cloister. Sr Antonia studied Theology in Manhattan College in the late 1960's to early1970's. She attended St Joseph's College in Brooklyn graduating with a degree in Education (1974). She obtained an MA in Education from St Joseph's College in Philadelphia (1980).
Sr. Antonia was the assistant principal and then principal of the Visitation Academy for over 16 years. She was the Superior of the Visitation Monastery for 6 years from 1987-1993. After this she returned to the Visitation school as principal ( 1993-1996). In these years she also became the lnfirmarian. As such, Sr. Antonia was responsible for all the health needs of the sisters and cared for the sick and dying. She was in charge of the infirmary for well over 20 years, relinquishing her duties to the infirmary as recently as 2013.
In addition to all other responsibilities, she delighted in teaching religion to Kindergarten and First Grade children (1996-2016). Teaching motivated her recovery from a heart valve replacement in the spring of 2015. She returned to teaching religion to the new Kindergarten class in September 2015 and taught her last religion class on October 27, 2016.
Sr Mary Antonia  went home to God gently with grace and in peace on November 28, 2016.