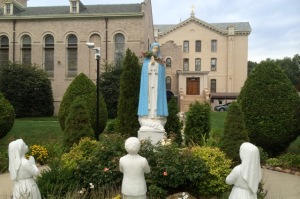 The Sisters of the Visitation Monastery of Brooklyn have scheduled a Mass in honor of Our Lady of Fatima on May 13, 2017 at 1PM in the Sacred Heart Chapel of the Monastery.
Celebrant will be Reverend Stephen Saffron.
Holy Mass will be followed by a Rosary Procession to our outdoor Shrine of Our Lady of Fatima, located at the entrance lawn of the Monastery and Chapel.
Refreshments will be offered after the Rosary.
All welcome!